By Helen Saxton (performed under the pen name Alexi Stonehouse)
18th – 20th November 2021
London. 1947. Philip Mackinder is dead. His wife has shot him. In Evil Will Come, a homage to Agatha Christie, a court hears the evidence, and we see the events leading up to the fateful night. What could have driven a respectable pillar of the community to commit such an evil act?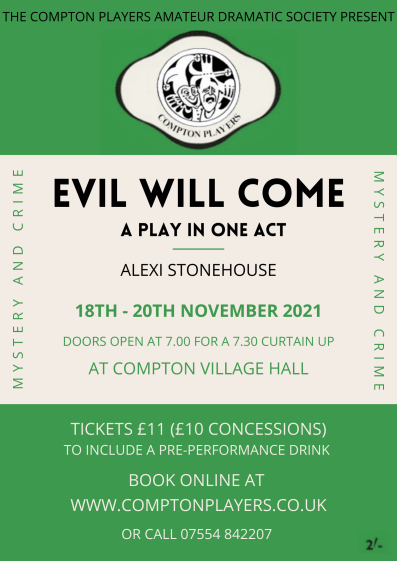 The Cast

Catherine Mackinder: Helen Saxton
Philip Mackinder: Pete Watt
Catherine Mackinder (in court): Ella Wilson
Mr Justice Wargrave: Eric Saxton
Patrick Ridgeway KC: Paul Shave
Constable Thomas Redfern: George Buckland
Mrs Lena Croft: Liz Saxton
Directed by Helen Saxton
Reviews
Janet Anderton
Kudos to Compton Players for unearthing this compelling one act thriller from unknown (at least to this audience member) playwright Alexi Stonehouse.
The story is told largely in flashback focusing on the relationship between Catherine (Helen Saxton) and Philip Mackinder (Pete Watt) and the events that lead to Catherine gunning Philip down in their Regents Park apartment. This is in no way a spoiler as the fatal shooting is the first thing the audience sees and the first sharp intake of breath of many that this tightly crafted piece draws from its audience.
What feels like a period piece but according to the programme notes was written in 2021 is also chillingly contemporary with its portrait of a veteran suffering from PTSD compounded by lasting side effects of Malaria. This turns a decorated war hero into a misogynistic, gaslighting, and psychologically abusive husband played with suitable menace by Pete Watt. He also manages to get the audience on side occasionally which brings a truthfulness to the relationship that is painful to watch. His chilling delivery of "you speak to them" leaves the audience in no doubt as to the power this man has over Catherine. Helen Saxton takes us on a roller coaster of an emotional journey with her understated and pitch perfect performance as Catherine, not a particularly likable character but trapped in a claustrophobic loveless marriage that her pleas for attention suggest was very different at the start of their ten years together.
The dialogue between them crackles and captures the era perfectly. "Laughing in your fists at us", "I'd really rather not" and the temptation to go full Noel Coward is masterfully avoided.
Thankfully, and again a credit to the playwright, the structure allows us a respite from the intense relationship as we visit the court where Catherine Mackinder is on trial for murder. Proceedings are overseen by the Judge played with real authority by Eric Saxton and prosecuting KC (Paul Shave) who is perfect in the role as a barrister who can't believe his luck at landing such a clear cut case and is clearly enjoying leading the witnesses and provoking mild outrage from the uncredited and offstage counsel for the defence.
The witnesses provide an engaging way to deal with some of the necessary exposition and background character development that would have felt extremely forced if left to the central characters.
Liz Saxton is suitably aggrieved as the hard done by housekeeper, Mrs Croft, and George Buckland delivers a well crafted turn as a naive and potentially incompetent PC that provides the killer testimony in court.
This one act play is full of twists and turns, and was directed with pace and sensitivity by Helen Saxton. The design evoked the world of Agatha Christie both in decor and costuming and I spent a large part of the 45 minutes expecting Poirot to make an appearance, until I realised that Alexi Stonehouse had cast me (and the rest of the audience) in that role as well as the role of juror as the curtain falls before any verdict is delivered.
My verdict is clear. I find the Compton Players guilty of delivering an extraordinary one act play in a most exceptional manner.
Janet Anderton
Newbury Weekly News
Homage to Agatha Christie
Compton Players return to stage with courtroom thriller
It has been a long period of enforced inactivity for Compton Players, along with amateur and professional theatres everywhere. Lockdowns and social distancing meant members couldn't even meet up and congregate, never mind tread the boards. Director Helen Saxton expresses her pleasure at being back in the programme notes to this, their first production in front of a live audience in two years.
Mind you, I'm not suggesting anyone ever performed plays in front of a dead audience, but there were such things as Zoom presentations and Compton Players did have an online show called The Covid Inspector. This though, was their first at their usual venue, Compton Village Hall, and the play was a one-act crime drama set in the 1940s. The nostalgia for the more gentle and inoffensive recent past was enhanced by comparison of this play with work by Agatha Christie in the programme notes. And again by the cover design of the programme which looked like a reproduction of a 40s Penguin paperback.
This 45-minute one-act play by Alexi Stonehouse was performed in the round, with the courtroom at the Old Bailey placed on stage and the living room laid out in the middle of the hall with audience members watching from three sides.
Helen Saxton, in addition to directing duties, played Catherine with good control and natural movement across stage and Pete Watt was quietly effective as her treacherous husband. Paul Shave was slow and deliberate in an accurate portrayal of a barrister and Eric Saxton gave depth and gravitas as Mr Justice Wargrave. George Buckland played a policeman giving evidence and there was a short cameo performance by Liz Saxton as the cleaner Mrs Lena Croft. Ella Wilson played Catherine in court, a short part although she was sitting silently on stage all through.
It was, as is usual with Compton Players, a smooth, well-paced production with a sting in the tail.
We were warned in the programme that there would be two shots during the action, fired from a starter pistol using blank caps. Very loud they were too and enough to make a few audience members jump out of their seats.
Derek Ansell