by Dave Hawkins
11th – 14th November 2015
When big-city feature-writer James Norton is sent to Cornwall to cover the closure of an independently-funded lifeboat station, he soon finds himself caught up in a campaign to save the lifeboat. Coping with soaring temperatures and a rapidly approaching Appeal Court ruling, James finds his life becoming more and more entwined with the locals fighting the cause and, in particular, with enigmatic artist Star, who may not be all she seems…
This is an exciting new play by Dave Hawkins, who has written scripts for several previous Compton Players productions.
Seal Cove has been awarded the Maurice Spillett Trophy for Best New Show in the NODA South East Region 2016 awards.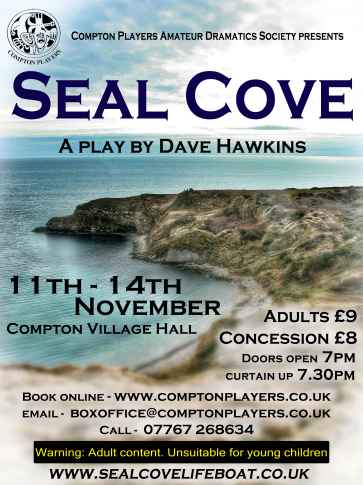 The Cast
Star: Naomi Read
Rev Karen Worsley: Lauren Eeley
Penelope Grainger: Mary Warrington
James Norton: Pete Watt
Gerald Grainger: H Connolly
Angela Merryweather: Emily Downes
Doug Tremayne: Robin Hawkins
Conrad: George Buckland
Directed by Dave Hawkins
Review from NODA
Seal Cove is a new play written by Dave Hawkins (who also directed this production) and tells the story of feature writer James Norton's experiences when he goes to Cornwall to cover the story of an independently funded lifeboat station that is under threat of closure. He becomes embroiled in the campaign to save it, locals infighting, romance and the mysterious young woman in the wheelchair.
Front of House: The front of house team welcomed patrons and helped to create the atmosphere ready for the production.
The programme: The programme was A5 in size and gave clear information about the production in a readable font including cast biographies. There was also a section devoted to other local productions and the NODA logo and strapline.
Scenery/Set/Properties: The guest-house was realistically created with great attention to detail with sea themed pictures, wall-mounted payphone and drinks cabinet with drop down serving leaf. The set was realistically decorated and the props were well used by the cast.
Make-up and hair: The make-up and hair was appropriate throughout.
Costume: The costumes were in keeping with the characters and well thought out. Brenda Prior and Becky Saunders deserve special praise for the lifeboat man's outfit, vicar's dog-collar and the Mermaid tail!
Lighting and Sound Effects: The lighting was excellent, especially the changing light outside. The storm lighting/sound effect was superb and complemented the production.
The Production: Director, Dave Hawkins, had assembled an excellent cast led by Pete Watt as the writer. He had fine support – in this adventure/mystery/romance story – from Naomi Read as the enigmatic Star and she gave an assured performance and manoeuvred the wheelchair with great skill. The talent of the actors resounded throughout this excellent production. This was a clever and intriguing story that kept us entertained and interested. Congratulations to Compton Players who should be proud to add this to their list of successes and for having the nerve to go with a new play.
CHRIS HORTON
DISTRICT 14 REPRESENTATIVE, NODA SOUTH EAST
ODN review
Seal Cove was written for Compton Players and directed by the author. Set in the Seal Cove Hotel in Cornwall it covers a sweltering week in June. The Lifeboat Station is in jeopardy and the locals mount a campaign to save it. A London feature-writer arrives at the hotel to cover the campaign and closure.The Hotel owner, Penelope Grainger, (Mary Warrington) brought a delightful comedy touch, trying to keep an orderly house, whilst unable to contain her infatuation with the young, good-looking lifeboat Coxswain, Doug Tremayne (Robin Hawkins). Penelope's long-suffering husband Gerald (H Connolly) also brought comedic presence to the play with his lugubrious portrayal of the browbeaten husband until his fortunes change with Penelope getting drunk at the festival!The Vicar, Rev Karen Worsley (Lauren Eeley) was surprising. Although Lauren is one of the younger members of the cast, carried off the role with assurance and great self-confidence, giving pastoral support to 'Star' and the whole of the lifeboat campaign, particularly Doug!
Top solicitor, Angela Merryweather, played very efficiently by Emily Downes, is brought in to help fight the Trust, which wants to close the Lifeboat Station (as there had not been enough fatalities). She, too, has designs on Doug, who started off with a good Cornish accent, which tailed off a bit. He gave a superb performance and handled the female attention very well, but, surprisingly, ended up with the vicar. Their initial kiss, about which a fuss was made, was so fleeting it was almost missed.
James Norton, the Journalist, was played very convincingly by Pete Watt was the mainstay of the play and cemented the whole action together beautifully, with some very nice touches of pathos and irritation.
'Star', aptly named, (Naomi Read) spent the majority of her time in a wheelchair, which no one realised until she appeared from behind the table and manoeuvred her wheelchair so expertly throughout in the confined space of the stage. Naomi's performance as the cynical para-plegic, who transformed into the mermaid was exceptional. There were many brilliant moments in her seduction of James and her stormy relationship with her half-brother Conrad (George Buckland).
Conrad was excellent as the menacing 'angry young man' who put forward the alternative explanation for Star being in a wheelchair. Rather too much finger-pointing though to get his anger across.
A well performed play, enjoyed by the enthusiastic audience. It was, perhaps, a little long and could do with some judicious editing. Congratulations to all.
NIGEL JAMES
Newbury Weekly News review
Caught up in a cause
Written and directed by long-time member of the society, Dave Hawkins, Seal Cove is about a feature-writing journalist visiting Cornwall to cover the closure of an independently-funded lifeboat station.
Peter Watt, as Norton, played the tentative, careful reporter, sniffing out the relevant facts, but gradually coming to sympathise with the locals, who do not want the station to close.
He arrives at the local Seal Cove hotel to be greeted by the extrovert Mrs Grainger, a good comic turn by Mary Warrington, and her husband Gerald (H Connolly who also played it for laughs). Turning up for bar duty in dress jacket and tie and khaki shorts or tuning in to the porn channel on TV while Norton was asleep, Connolly had plenty of opportunities to receive laughs from the audience.
There was a well-studied and convincing performance from Lauren Eeley as the Rev Karen Worsley, although her habit of continually pointing a finger became irritating. Angela Merryweather, a solicitor, was given a bleak, bland reading by Emily Downes but she had little to get her teeth into as an actor. George Buckland was convincing as Conrad, a young tearaway and Robin Hawkins worked hard as lifeboat captain Doug Tremayne. The character of enigmatic artist Star was complex, a curious mixture of neuroses and self confidence, very well observed and written by the author and exceptionally played by Naomi Read, who convinced throughout, almost persuading us at one point that she was a mermaid.
Some characters were maybe not quite right in terms of age and dimension – but hey, this was Compton Players, not central casting Hollywood.
In the end, nothing was quite resolved or tidied neatly so presumably the author wanted people to go away and work out their own endings. I do hope he explained his own view of the ending to the actors who, as usual, put in strong performances and were well-equipped with a good setting and suitable costumes. The eerie sound of the seals in the background added atmosphere to an intriguing production.
DEREK ANSELL