by Gail Young
20th to 23rd November 2019
See the reviews below.
This is a comedy drama about one woman's struggle with Alzheimer's. The play follows Irene and her two daughters Louise and Beth as the girls lose their mum in spirit but not in body. As her family struggle to come to terms with her Alzheimer's, Irene's past passion for romantic literature blurs with reality. She spends hours discussing how best to write her 'memory book' with her imaginary friend and favourite author Barbara Cartland (the deceased world famous romantic novelist), disclosing long kept family secrets that she would never divulge to her daughters.
This tragi-comedy is about memory, loss, secrets and, above all, love.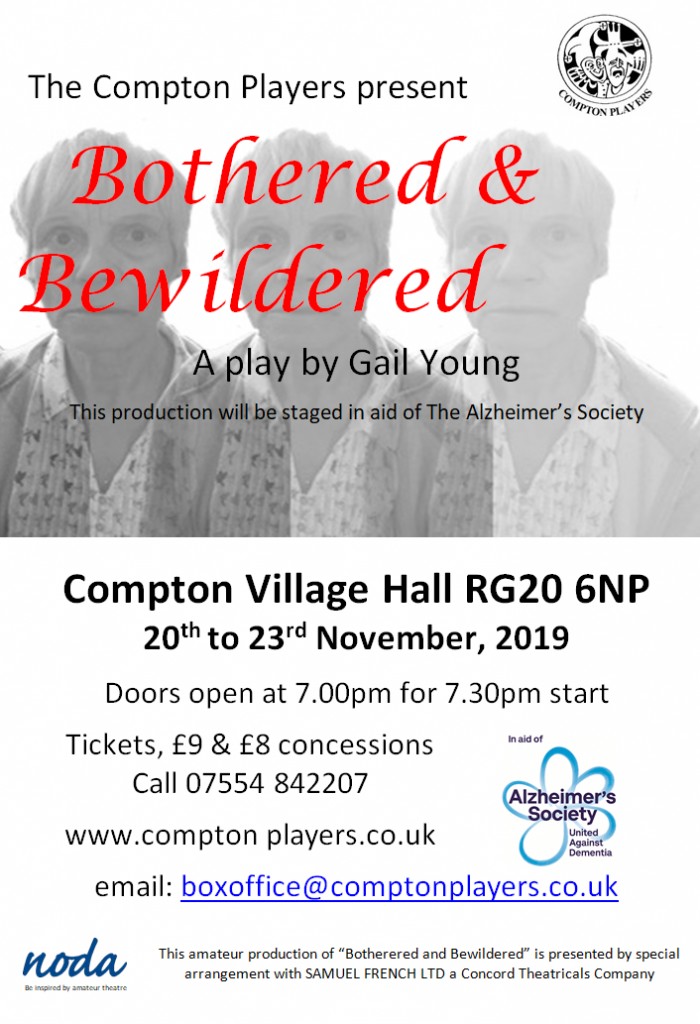 The Cast
Irene: Liz Saxton
Beth: Brenda Prior
Louise: Mary Warrington
Barbara Cartland: Ann Griffiths
NHS Consultant: Chris Kendrick
Community Policeman: Robin Hawkins
Jim / James: George Buckland
Young Irene: Naomi Read
Shelley: Naomi Read
Doctor Johnson: Alan Johnson
Directed by Eric Saxton
Newbury Weekly News review
Between past and present
Tour-de-force portrayal of dementia
Compton Players: Bothered and Bewildered, at the Village Hall, from Wednesday, November 20, to Saturday, November 23
Loss and love were studied onstage in The Compton Players' moving, funny and ultimately heartbreaking performance of Bothered and Bewildered.
The play centres around widow and mum Irene and her worsening dementia.
Her daughters Beth (Brenda Prior) and Louise (Mary Warrington) rally to support her, but struggle to cope both practically and emotionally as they lose their mother before their very eyes.
While the subject matter was important and doubtless painfully familiar to many, the play was not a gloom fest thanks, in part, to the addition of Barbara Cartland, Irene's favourite author and her imaginary companion.
Ann Griffiths clearly had fun as bombastic Barbara, bedecked in shimmering pink and delivering not very helpful, but often amusing, pearls of wisdom with an air of total confidence and authority.
Liz Saxton was an absolute triumph as Irene. The whole cast did a good job, but it was her utterly convincing portrayal of a woman living between the present and the past that was most discussed by the audience as we left.
Of the more minor roles, Alan Johnson was every bit the doctor as well he should be (according to the programme he has worked in this field).
The put upon sisters were also very watchable, they had great chemistry and jostled along like real siblings.
The piece was very well paced and although props were kept to a minimum and wardrobe was fairly basic it was all quite sufficient.
One small criticism would be that the black paint around the stage itself could do with a fresh coat.
Really, given that this was an amateur performance in a small village hall, Bothered and Bewildered was quite exceptional and the whole cast and crew involved in this should be very proud of themselves.
It isn't often that these subjects are tackled in such a measured way raising awareness without being preachy or overdramatic, and raising laughs to balance the seriousness of the theme.
YVETTE CASTER
ODN review
A rainy evening in November; I found myself watching The Compton Players perform a very interesting play, which made my partner and I forget our own lives and the Christmas rush. We watched the very moving performance concerning the chronicles of two sisters coping with the onset of their mother's Alzheimer's played very realistically by Liz Saxton as Irene.
The play was based on the author's own personal experiences and those of her closest friends. It was indeed a thought-provoking story with a percentage of the funds raised being donated to The Alzheimer's Society. The play takes us from 2001 – 1960 – 1940 and physically moves us from Irene's bungalow, the consultant's surgery and Louise's home.
We witnessed the conversation held on stage with the two sisters telling their story very amusingly at times of the trials and tribulations of their Mother's condition to a very realistic doctor. It highlighted to us all just how difficult it is at times to get real help for one's family with this illness.
I enjoyed the symbiosis between the sisters who where often at their wits' end coping with their Mother. Beth (Brenda Prior) seemed the stronger older sister who knew in the long-term that putting their Mother in a home would be the only solution as the condition worsened. But I liked Louise (Mary Warrington) the unmarried sister as she performed the softer role and we felt her pain as she tried to cope with her Mother's anger and obsession with a teddy bear.
My partner loved the Barbara Cartland flamboyant character played by Ann Griffiths. Especially when she was advising the Mother to use Rose Water on her face – it was so old fashioned and funny. We loved the bright pink costumes of Barbara Cartland and the timing of the three-way conversations were perfect. The young Irene played by Naomi Read was touching as she also played the grandchild who looks after her Grandma for the evening to give Louise a night out.
We were amazed how she maintained a full conversation with her Grandmother whilst painting both her finger and toe nails with pink nail-varnish! I spoke to her later and discovered that scene took a lot of practice to get the manicure done whilst acting. It was touching and funny at times, not so full of gloom. Definitely thought provoking.
The twist was good when we discovered that Irene had given birth to a child. She was forced through circumstance to give the boy up for adoption as she was such a young girl herself. We were informed of how she had covered this up all her life to her husband because of the so-called shame. When the son James turned up after finding his long-lost Mother, that was a very touching scene. And the fact that he continued to write to her and call her Mother was very moving. The daughters discovered this letter when going through their Mother's belongings once she was placed in a home and we too experienced their shock and surprise as a clever switch of lighting moved us over to the son reading the letter in person.
Good use of the stage by placing the Consultant's table on a platform and making all the back of the set black worked a treat as we were not distracted from the story, I felt. In the break I found myself chatting to a member of the audience who had just been through all the symptoms of Alzheimer's with her Father and she said it was very realistic, touching and funny.
We watched as the characters emerged to entertain us in style; admittedly the style of humour was indeed sad, touching but brave. But all in all we both felt it was a good performance.
Eric Saxton the Director and designer did a damn good job of creating a thought-provoking realistic setting and a well-directed play. Roll on the next one I say.
SUE HADLEY
NODA review
Bothered and Bewildered by Gail Young is a play detailing a family's struggle with Alzheimer's and focuses on the repercussions for Irene and her daughters, Beth and Louise. It's told, sometimes in flashback (Irene's past) and fantasy, Irene's imagined conversations with Barbara Cartland who delivers fantastical dated advice. It's a mixture of humour and pathos, combining laughter and tears.
THE PROGRAMME was 8 pages, A4 folded to A5 with notes from the Director, a piece about the play, photos and biographies of the cast, cast and crew listing and there was also a list of other local productions.
SCENERY/SET/PROPERTIES: The stage design was inventive and basic with minimal furniture denoting changes of scenes and included a raised level for the doctor's consulting room. The props were realistic and well used.
COSTUMES AND MAKE UP: The costumes were in keeping with the story. There was great attention to detail and the costume and make up for "Barbara Cartland" were particularly impressive.
LIGHTING AND SOUND: The lighting was good and well controlled throughout. The sound was excellent with good use of voices and music for the hallucination scenes.
THE PRODUCTION: With a cast made up of Compton Players regulars, this play told a heartfelt and touching story as Beth and Louise tried to manage their mother's descent into Alzheimer's. There were some nicely judged performances and everyone was confident and comfortable with their roles. The acting, particularly Liz Saxton as Irene was realistic and emotional. This was an excellent example of ensemble acting. Under the direction of Eric Saxton, this production proved that humour can often be found in difficult circumstances as Irene and her daughters faced frustrating realities. Another success for Compton Players.
CHRIS HORTON
Compilations review
THE COMPTON PLAYERS … WOW
At the end of November the Players gave us their Autumn production. It had the scary title of Bothered and Bewildered, and yes, it was about an Alzheimer's sufferer.
The whole absorbing tale revolved around Irene (the sufferer), her two exhausted, frightened and frustrated daughters and their family members … some seen, some not.
The tapestry of individual crises and the component parts all hang on Irene's illness. BUT interwoven through the story was the tragic romance of her first and only love who died in the War and left her briefly, with a baby boy. It was a beautiful, sad thread that had, to a degree, a happy ending. (She had been forced to give up her new-born baby but ultimately saw the man he had become.) In the last moments of the play we saw the love and recognition they had for each other, but which Irene had been afraid to acknowledge in her bewilderment.
At the curtain call there was loud and sustained applause but many long faces and tearful eyes.
The ubiquitous Liz Saxton, as Irene, drove the play with passion and flair and ran through an extraordinary and wide range of emotions.
Brenda Prior and Mary Warrington were the two fraught daughters who were at their wits' end and who were trying to avoid their Mother going into a nursing-home. Two powerful and enthralling performances.
The spirit of Barbara Cartland floated sinuously and delightfully in and out of the story. Dressed deliciously in pink, of course, she was portrayed outrageously and elegantly by Ann Griffiths.
Thank you, Players, all of you. What an amazing team you all make. Also, what a bold troupe you are and such a success in all you do.
The talented Pete Watts was conspicuous by his absence. However, there was no male lead that could remotely have accommodated his talent.
The Alzheimer's Society will benefit hugely from this production. However WE all benefitted enormously from the insight the author gave us in portraying this family's battle.
Thank you again Players for that intricate mosaic portrait of emotions.
A stunning production. Wow!!
ANONYMOUS