Compton Players have been itching to perform again and have got down to the serious business of producing a play. And it's online now – read on!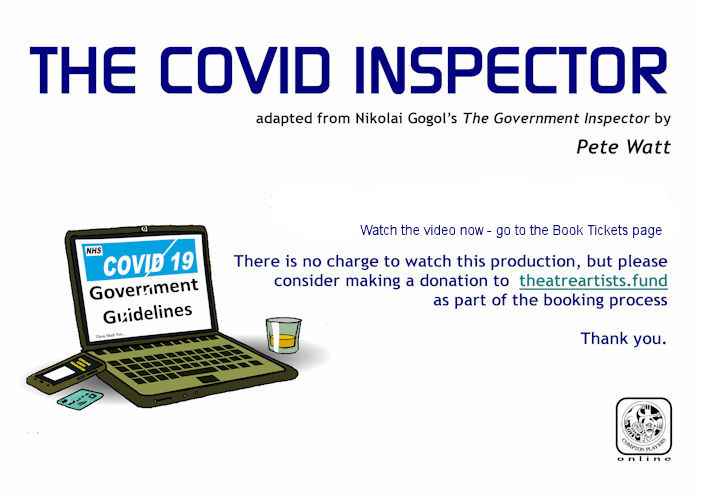 The Mayor is in a pandemic related panic. He has heard from a reliable source that the town is to be visited by a Government Covid Inspector.
His fears are well-founded as the Council has been creative in its interpretation and delivery of Covid guidelines… but he knows that the Government's own lack of clarity will be no excuse if the Inspector asks the more difficult questions.
Hurriedly arranged Zoom meetings find the Mayor and his team looking for ways to resolve this sticky situation! But a simple case of mistaken identity leads matters to spiral hysterically out of control.
Could it be that they have met their match in the complicated business of deception?
Pete Watt's adaptation of Gogol's satirical masterpiece transfers the action from the streets of 19th Century Tsarist St Petersburg to the Zoom screens of 21st Century Covid England at the start of the second National Lockdown.
To find out how to view the online video, go to the Book Tickets page.
Some audience comments:
"We thoroughly enjoyed your version of the Covid Inspector – very well done."
"May I say that we very much enjoyed the performance. We were both very impressed with how well all the performers coped with a very new environment and, indeed, with how slickly the zoom performance was presented. For a first time effort the performing and the technical achievement involved were quite amazingly polished. Our warm congratulations."
"Please could you pass on our congratulations to the Compton players for a very entertaining production. It must have been very difficult to organise and rehearse but it was excellent – job well done!"
"Thanks so much for highly entertaining and brilliantly constructed piece of Covid entertainment! Hope you all enjoyed making this as much as we enjoyed watching."
NODA review
THE COVID INSPECTOR written by Pete Watt and directed by Helen Saxton is a play about mistaken identity, deception and self-deception when the Mayor of a town, in present day UK, mistakenly identifies a conman for a Covid Inspector. The town is expecting a visit but conclusions are jumped to, and the Mayor takes advantage of his position to gain favour with the 'Inspector'. It is loosely based on the 1836 play The Government Inspector by Nikolai Gogol who, allegedly, based his play on a quote by Pushkin. The lies came thick and fast and we know, from the start, that things will not end well for anyone, apart from the supposed Covid Inspector.
SCENERY/SET/PROPERTIES: Filmed in various homes, a variety of backgrounds were used and some artificial backgrounds (a hotel room in a Travel Lodge) was used in keeping with the story.
COSTUMES AND MAKE UP: The costumes were in line with the story and costumes changed, when necessary i.e dressing up for a posh dinner. There was good attention to detail and the cast had given some thought to their characterisation, through costume.
THE PRODUCTION: Pete Watt introduced the evening and explained, due to the current health crisis, plans had to be put on hold for the original Spring 2021 production of Beyond a Joke. He hoped that normal service would resume soon! For this production, a cast of characters with comedy names was assembled. Among the joke names we had: Arthur Rittick (the hospital director), Owen Cash (the conman), Roland Butter (a hotel employee), Helen Back (the postmistress) and Eileen Down (the Clerk to the Council). The action follows an entry level civil servant Owen Cash when he is mistakenly identified as the Covid Inspector. He takes full advantage of all, extracting money from practically everyone and flatters his way into the home of the Mayor (extracting an advance of £75,000 for his supposed marriage to the Mayor's daughter) and flattering his wife. The embellished stories and exaggeration continue through the evening with mentions of confusing and conflicting advice: work/don't work? Work from home if you can/use public transport/don't use public transport? Go out to support the economy/stay home to protect the NHS… With great characterisation from the entire cast, this play, based on the political corruption, bribery, greed and bureaucracy rife in 1830s is still relevant today. Congratulations to all for technical expertise, innovation and imagination in bringing this story to life.
CHRIS HORTON
Compilations review
THE COMPTON PLAYERS ARE BACK!
In May our Players embarked on their first Zoom performance. What an achievement. Well done. It's been too long since they have strutted their stuff for us.
The jumpy Zoom Images did not detract from the story, oddly they lent credibility.
Pete Watt bravely threw down his greasepaint and wrote a spoof of Gogol's The Government Inspector, called The Covid Inspector.
He transfers the action from 19th Century St Petersburg to 21st century England at the start of the second Covid lockdown.
It is presented in the style of the Jackie Weaver local council bloodbath that hit our headlines earlier this year.
The Chairman is the mayor. A man whose creative interpretation of Covid guidelines has left him and his fellow Zoomers, his council, vulnerable. He is frantically looking for a cunning plan to escape his responsibility BUT a case of mistaken Identity wreaks havoc.
The gentle beginnings contained a harvest of comic names… Helen Back, Eileen Down, May Kittup and Arthur Rittick to name a few.
The savage satire of Gogol was replaced with gentle sarcasm.
Allegations of misconduct were hurled from every direction. The council knew that the Covid inspector was on his way Indeed, they suspect they know that he has already arrived. But he is not who he seems!!
A father Ted sketch reference had great appeal to me. It was tucked away in a block of dialogue but still shone out.
A brave, colourful production Players… and fun.
Well done yet again Compton Players and THANK YOU.
PETER SCOTT