by Norman Robbins
22nd- 25th April 2015
A Tomb with a View is set in as sinister an old library as one is likely to come across presided over by a portrait of a grim faced, mad eyed old man. There, a dusty lawyer reads a will (involving some millions of pounds) to an equally sinister family. One member has werewolf tendencies, another wanders around in a toga of Julius Caesar and a third member is a gentle old lady who plants more than seeds in her flower beds. By the third act, there are more corpses than live members left in the cast; and what about the sympathetic nurse and the author of romantic novels – are they all, or more than, they seem to be? All is revealed as the plot twists and turns to its surprising conclusion.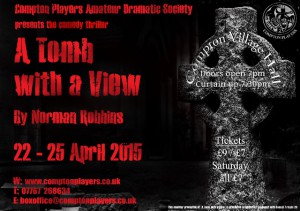 The Cast
Hamilton Penworthy: Eric Saxton
Lucien Tomb: Mark Bailey
Dora Tomb: Brenda Prior
Emily Tomb: Jasmine Gartshore
Marcus Tomb: Paul Shave
Anne Franklin: Naomi Read
Agatha Hammond: Liz Saxton
Freda Mountjoy: Lauren Eeley
Peregrine (Perry) Potter: Charlie East
Monica Tomb: Helen Saxton
Produced by Tracey Pearce
Production Photos
Rehearsal Photos
Review from NODA
A Tomb With A View by Norman Robbins is a glorious spoof set in a gloomy old mansion. The action centres on the Tomb Family after the death of the head of the household and subsequent fallout after the reading of the will.Front of House: The front of house team welcomed patrons and helped to create the atmosphere ready for the production.
The programme: The programme gave very clear information about the production, the history of the Compton Players, contact details and helpful information of other local productions. There was no mention of NODA membership.
Scenery/Set/Properties: The library of the old mansion was realistically created with great attention to detail: the large dark wood effect fireplace, tiger's head, cobwebs, portrait above the fireplace, heavy drapes across the French windows and panel leading to a secret passage. The props were excellent and well used by the cast.
Make-up and hair: The make-up and hair was appropriate throughout.
Costume: The costumes were excellent, well thought out, giving each character individuality and there was great attention to detail.
Lighting and Sound Effects: The lighting was effective throughout and well controlled. The creaking door and clanking of bolt being drawn back was well received by the audience and a very nice touch.
The Production:
A Tomb With A View is a 1978 comedy thriller, set in the library of the Tomb Mansion, Monument House, shrouded in fog the crusty old lawyer, Penworthy – an assured and convincing portrayal by Eric Saxton – opens proceedings by getting ready to read the will of Septimus Tomb. His offspring – a varied and very eccentric brood – gather like vultures. There's blustery, Lucien, full of his own importance who sees himself as the new head of the family, delightfully dotty Dora who jumps at the mention of the policy and brash, abrupt and greedy Emily. They learn that they are not the main beneficiaries, an authoress is on her way to claim the majority of the fortune. They are aghast. Dora (Brenda Prior), Emily (Jasmine Gartshore) and Monica (Helen Saxton) the sisters – each depicting varying traits of madness and lack of regard for life.
The Tombs employ a nurse and cook/housekeeper: Naomi Read and Liz Saxton and they envisage a nest egg to comfort their lives. The authoress arrives (Lauren Eely) and her secretary, Charlie East arrive but they are not what they seem. The phone is out of order, the bodies start to pile up and to complete the evening of batty fun, an unseen brother, Oliver, thinks he's a werewolf and we hear his howls from the basement. Completing the cast of quirky characters Paul Shave as Marcus, dressed in a toga believes himself to be Julius Caesar.
Each suspects the other as murders occur in rapid succession, stabbings, shootings, poisonings all hilarious and gloriously executed. I particularly enjoyed Emily's choking on the apple and being unceremoniously dragged off stage into the wings and a bedraggled Perry appearing after he crashed his car into the swamp! Compton Players maintained a high level of acting and clearly relished their roles: Helen Saxton oozing charm and seduction as man-eating Monica pouncing on the reluctant Perry, deserves special praise.
A Tomb With A View has all the ingredients for a spoof murder mystery and Compton Players served it all up with a dose of humour under the imaginative direction from Tracey Pearce. The audience were kept in doubt as to the outcome, right to the end. The result was a hugely enjoyable evening with guns firing, daggers and blood in profusion and among the grisly happenings there were laughs aplenty.
CHRIS HORTON
DISTRICT 14 REGIONAL REPRESENTATIVE
Newbury Weekly News review
Death becomes them
Compton Players' homicidal comedy thriller
Well, it is described as a comedy thriller, although spoof thriller might be a better description. Norman Robbins came up with his play in 1978 and it remains his most popular work.
All the ingredients for an oddball thriller are in place with the cast; first a homicidal woman who poisons people and buries them in the garden, a part relished by Brenda Prior.
Then there is a brother of hers who thinks he is Julius Caesar and dresses in a toga, slightly underplayed by Paul Shave. Jasmine Gartshore gave a spirited performance as another sister, Emil, and Mark Bailey as the bumbling Lucien was, perhaps, a wee bit over the top in his performance.
Charlie East was somewhat miscast as the unlikely babe magnet, Peregrine Potter; he needed glamming up. Helen Saxton did well as nymphomaniac Monica, and her family were well represented by Liz Saxton as Agatha and Eric Saxton as the lawyer, this last a well studied and observed performance indeed.
Another fine acting performance came from Naomi Read as the nurse, who had to go through more than one change of character during the course of three acts.
Lauren Eeley, as Freda, had a small part and not much to do but she did it well enough.
The production, directed skilfully by Tracey Pearce, flowed along reasonably well, maybe a fraction slower than it should, but well acted, good positioning on stage throughout and yes, even a colourful, slightly creepy setting.
A strange choice of play maybe, but overall this was yet another successful production for the Compton Players.
DEREK ANSELL
ODN review
Thanks to Compton Players for inviting us to see their production of A Tomb With A View by Norman Robbins, and for their welcome. The play is a comedy/thriller written in the '70s, with more twists and turns than one can count and more bodies than an episode of Midsomer Murders! The play started dead on time (always a good sign) with some well- chosen music and the howling of a wolf; the curtains opened to a very impressive library set, with a magnificent fireplace, secret door, cobwebs and no end of empty (thereby hangs a tale) library shelves. It must have taken a great deal of work to create the set, so congratulations to Eric Saxton and his team. Just a thought – would it have been possible to lose the high level light that showed up the stage ceiling, in order to create an even more oppressive atmosphere?
It quickly became apparent that the play was very well cast; everyone involved seemed to fit their part, with each of the ten actors creating his or her own distinctive personality, with good characterisation throughout. The characters as written are stereotypes, but they came across as believable and sympathetic, despite their manias and litany of crimes! This was a real team effort, with everyone contributing to the full (while their character was alive!), so it seems invidious to pick anyone out for special mention. However, having said that, Naomi Read's final scene exposition as Nurse Franklin, of how she had done what she did, was a tour-de-force. The pace was maintained throughout, with some lovely comic moments reinforced by good timing; the cast really knew their words, so one never felt that anyone would 'dry'. If anyone did, it wasn't noticeable. Throughout the action, it felt as if the cast were working for each other, with not a 'prima donna' in sight; they were obviously enjoying themselves hugely, and that came across to the audience.
The production values were high – props, costumes, sound and lighting were all well done; all helping to create a suitably strange atmosphere. All in all, a fun evening and one well worth turning out for – so congratulations to Director Tracey Pearce and everyone involved. Compton Players obviously have a loyal audience, with a community buzz – on the basis of this production, they deserve it.
PETER WEBSTER