by Alexi Kaye Campbell
9th – 12th November 2016
'He calls me sometimes. Usually in the dark hours of the morning. "Mummy," he cries. "Where are you? Come and find me."'
After years apart, two families come together to rediscover their lost friendship. Instead, they conjure up the spirit of a buried tragedy.
Set against the economic crisis of the 1930s, this boldly theatrical tale of grief and denial was premiered by Shared Experience at the Tricycle Theatre, London, in 2013.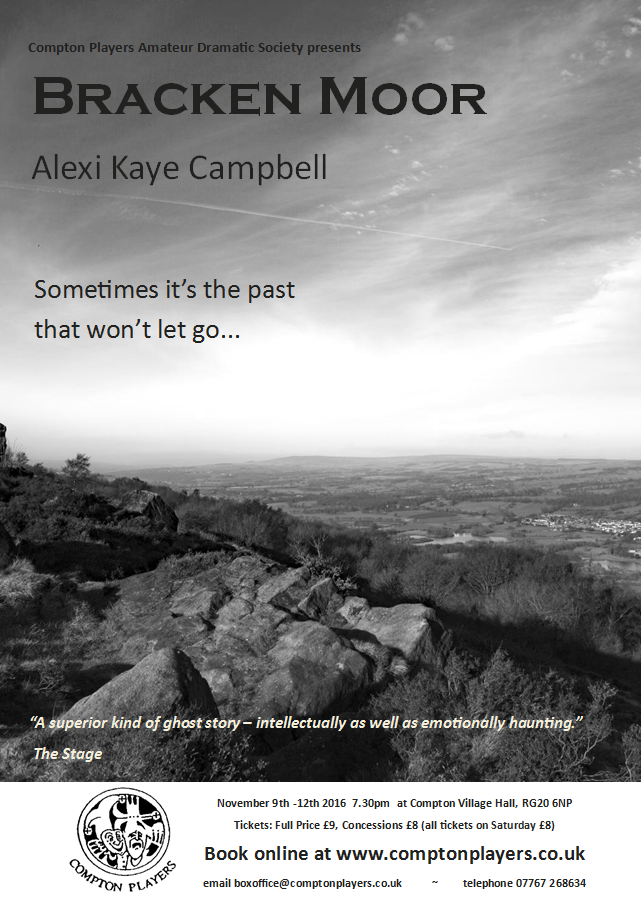 The Cast
Eileen Hannaway: Lauren Eeley
Harold Pritchard: Paul Shave
John Bailey: Ian Hickling
Terence Avery: George Buckland
Vanessa Avery: Jasmine Mullany
Geoffrey Avery: Dave Hawkins
Elizabeth Pritchard: Tracey Pearce
Dr Gibbons: Eric Saxton
Directed by Pete Watt
Newbury Weekly News review
Practically perfect players
Set in a rambling old house in Yorkshire in the late 1930s, Bracken Moor is a strange play. Part-social commentary but mainly spooky ghost story, it seems unable to make up its mind what it is exactly, but that is the fault of author Alexi Kaye Campbell and not the actors and director of Compton Players, who gave a splendid performance of the piece.
Moving across stage on a well-designed set, with dark, funereal wallpaper, Paul Shave was strong and impressive as the greedy colliery owner Pritchard, who values technological improvements above his workers and is happy to sacrifice 140 jobs.
Equally fine was the performance of Tracey Pearce as his grief stricken wife, still suffering daily, 10 years after the death of her young son who fell into a disused mine shaft.
Another powerful performance came from George Buckland, the young friend of the Pritchards' son, who appears to have been haunted into believing he is possessed by the spirit of his dead pal. He arrives with his father and mother, the Averys, friends of the Pritchards played steadily by Dave Hawkins and Jasmine Mullany and soon has Mrs Pritchard believing he is speaking directly for her dead son.
But he antagonises Mr Pritchard, who conveys with his expressions and stillness on stage, all the animosity he feels towards the young man. Tracey Pearce also manages to indicate her grief and hope by her studied looks and static positioning on stage when necessary.
Eric Saxton was completely believable as the country doctor, called out in the middle of the night to attend the hysterical, seemingly-possessed young man. His long speech about the unexplained and unexplainable, though, seemed unlikely considering he should have gone upstairs first to attend to his ailing patient. Once again, this was the play and no reflection on some really good acting all round by the Comptons.
There was good support, too, from Lauren Eeley as the maid and Ian Hickling as a local man trying unsuccessfully to save the miners' jobs. Towards the end of this fascinating piece of theatre, Buckland says to Pritchard "There are more things in heaven and earth than are dreamt of in your philosophy", but, of course, Shakespeare's Hamlet got there first with that one almost 500 years ago.
Top marks though to the Compton Players for a near faultless production.
DEREK ANSELL
ODN review
This play is set in the home of Yorkshire mine owner Harold Pritchard in 1937. He lives there with his wife, Elizabeth, but always under the shadow of his 12 year old son, Edgar who was killed in an accident 10 years ago.
The set, whilst imaginative and striking seemed a little under-dressed, not quite reflecting the opulence of the Pritchard's status.
The first encounter with the hard-nosed Harold is a disagreement with mine spokesman, John Bailey concerning the purchase of new machinery, which will see the loss of miners' jobs. Paul Shave (Harold) could have been harder and more confrontational, as he appeared too 'nice' throughout. This would have given John Bailey (Ian Hickling) the opportunity to respond forcefully. Likewise, Harold's intolerant attitude to Terence's idealism could have been a little more spirited. George Buckland gave a sterling performance as Terence, and his transformation between the opinionated young man and the child-like person possessed by the ghost of Edgar was simply brilliant.
Elizabeth (Tracey Pearce) was very believable as the grief-stricken mother and her interaction with Terence, as Edgar, was very good. It was a shame that some of her lines were lost due to lack of volume.
The house guests, Vanessa and Geoffrey Avery were well portrayed, with a stately performance from Jasmine Mullany (Vanessa), in contrast to the wilting Elizabeth, who was eventually fired-up with a forlorn hope, when unknown family secrets were being revealed by Terence. There was good tension between Harold and Geoffrey (Dave Hawkins) who came into his own, when standing up to Harold in act 2. His performance was solid and believable.
The stormy night culminated in a very effective thunder crash and lightening which heralded a greater transformation of Terence into being possessed by Edgar. Eric Saxton gave a brief, but sturdy portrayal of Dr Gibbons, called in (at 4.30 in the morning – pre NHS!) to attend Terence, following his bout of fitting. His Yorkshire accent was so good I had to check in the programme to see where he came from – Oxford!
The cast maintained the tension of the play throughout, helped by the maid (Lauren Eeley) explaining the situation to John Bailey who arrives with papers to be signed regarding the new mine machinery. Although an incidental part, this was a vital link and was very well and convincingly played.
The reveal was well handled and left everyone wondering if this really happened or was it all an act!
Congratulations to all on a skilful production of a difficult play.
NIGEL JAMES
Review from NODA
Bracken Moor by Alexi Kaye Campbell is a relatively new and largely unknown (on the am dram circuit) play. It's set in the rather shabby home of colliery owner, Pritchard, and his grief-stricken wife, Elizabeth, in 1937, ten years after the death of their son, Edgar. They live on the Yorkshire hills overlooking the mining village. It starts as a family drama but becomes a supernatural thriller and is peppered with social comment.
Front of House: All was well organised and patrons were warmly welcomed. The hall was laid out in theatre style. Patrons were assisted efficiently to their seats.
The programme: a glossy A3, quarter folded to A5, was clearly laid out with messages of welcome, biographies on the cast, details of forthcoming productions by other groups. A page was dedicated to quotes relevant to the play. There was also a NODA logo and mention of membership. Potential members were invited to get in touch via email – a telephone number would also be useful.
Scenery/Set/Properties: The set (the staircase, drawing room area of the mansion) was cleverly designed to make use of the relatively small stage. It was decorated in a dour, gloomy manner reflecting the neglect since the death of the son. The spectral portrait at the climax of the play was brilliantly executed.
Costumes: The costumes were excellent, with great attention to detail and were in keeping with the characters and story including very convincing muddy outdoor outfits.
Lighting and Sound: The lighting was superb as was the sound, and the effects – blackouts, storm, flashing light, were well controlled and very effective.
The Production: Director Pete Watt drew great performances from the entire cast who created and maintained the tension to a high level. George Buckland was quite stunning as Terence Avery (childhood friend of deceased Edgar) who had to transform from radical political idealist to lost soul possessed with the spirit of his dead friend. This was a powerful performance as was Tracey Pearce as Elizabeth, the grief-stricken mother. Congratulations to the Production Team (the necessary backbone for any production) whose hard work, in this instance, led to a polished show that was full of memorable and thought provoking moments.
CHRIS HORTON
District 14 Regional Representative, NODA South East
Save