by Dave Hawkins
4th – 7th February 2004
AKA Idaho Johnson and the Lost Diamond of the Wachu Tribe… we are proud to present another home-grown pantomime after a short break of nine years!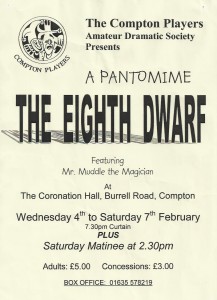 The Cast
BB Wolf Esq: Mike Long
Foxy: Cathy Leatham
Idaho Johnson: Phil Prior
Chief of the Wachu Tribe: Louise Edwards
Lofty: H Connolly
Gaffer: Nick Roberts
Ma Riding: Paul Shave
Pa Riding: Robertson Bell
Rosie Riding: Rebecca Warrington
The Mayor: Eric Saxton
Guests of the Mayor: Sheila Benton-Jones, Peter Whitworth, Jasmine Gartshore, Brenda Prior, and Mr Muddle
Captain Ketch: Mark Bailey
Guardsman Petal: Enid Farr
Krinkle: Mary Warrington
Granny: Faye McGeehin
Wachu Warriors: Harriet Dipple, Jo Meads, Emily Brooke, Ricky Prior, James Makepeace, Cameron Leatham
Cat: Caitlin Leatham
Moose: Dave Hawkins
Produced by Tracey Pearce
Newbury Weekly News review
Good clean fun and lots of laughs
In Compton Player's first pantomime for nine years, the Wachu tribe have their diamond stolen by Idaho Johnson – an exuberant performance by Phil Prior. Evil BB Wolf and his dippy assistant Foxy plot to steal the jewel from him, although BB makes sure that he does no work and leaves it all to Foxy. Mike Long and Cathy Leatham complemented each other in their roles and the make-up and costumes were superb.
To steal the jewel they needed a right mug and soon found him as the dwarfs went off to work down the mine. Seven yellow builders hats followed by a much taller one, marching behind a fence to the mine. Lofty – a vertically-stretched H. Connolly – couldn't get under the sign so it was up to the gaffer (Nick Roberts) to break the news that he was jobless.
As the gate opened to kick him out we realised that the gaffer was the only visible dwarf and all credit goes to Nick Roberts for performing with trainers on his knees for the whole of the evening.
It didn't take BB and Foxy long to determine that Lofty was their ideal stool pigeon and he is overjoyed at getting work so quickly.
He rushes off in to the woods to the cottage where Ma and Pa Riding live with a talking moose (The writer, Dave Hawkins, has to have a part in his own panto).
Poor Lofty is desperate to marry Rosie Riding his voluptuous girlfriend, who lives with her mum and dad in the woods. Paul Shave as Ma, the traditional dame, looked like a Dulux paint chart and Robertson Bell as her peg-legged husband engaged the youngest in the audience to help them find their daughter. The children shouted and yelled and Rosie (Rebecca Warrington) appeared.
Cor! I still can't see what she saw in Lofty. He told her of his new job and off he went.
The jewel was on display at the town hall, guarded by Captain Ketch and Guardsman Petal, who were not the brightest in the bunch and it soon vanished in Foxy's hands.
Mark Bailey and Enid Farr had good comedy timing and I would have loved to have seen their parts extended with a good slapstick routine.
Poor old lofty was caught and thrown into jail to be guarded by Ketch and Petal.
This pantomime was in true tradition and definitely for the children, who loved it. in the interval Mr Muddle entertained them and reappeared in the second half to assist a little lad in some magic tricks.
No panto is complete without a good fairy and Mary Warrington as Krinkle tried her magic to give the traditional happy ending in Granny Riding's house where lofty arrived after escaping jail with help from the Gaffer.
What a nice change to be able to take the children out for an evening of good, clean fun and plenty of laughs.
GERRY THURGUT